Instant Scan for QuickBooks Point of Sale
Ability Instant Scan app enables retailers to quickly capture, search, select, and update customer information by scanning a driver's license with a 2D Scanner at your QuickBooks Point of Sale Make a Sale Screen or Customer List. 
Retailers can collect desired customer information from the driver's license and Ability Instant Scan app will store the information in the QuickBooks Point of Sale customer custom fields.  You can collect the following information:  expiration date, driver's license number, age, birth date, gender, eye color, hair color, height, weight.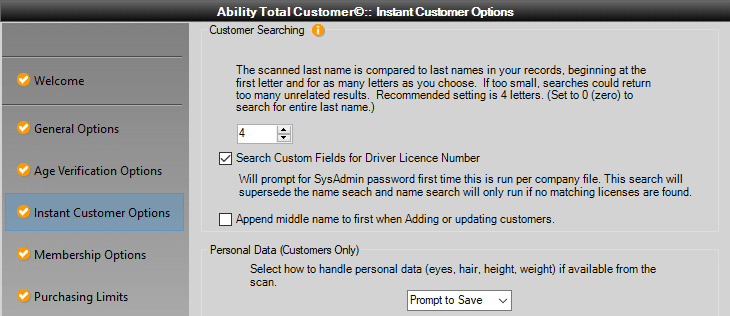 Subscribe Today
First Year/Per Station $299.00
Annual Subscription/Per Station:  $99.00
Benefits
Capture customer information

Collect customer data
Search customer names
Update customer records
Features
Match first and last name 

Match on last name
Store customer info in custom fields
Industries
Distilleries
Vape Shops
Medical Dispensaries
Gun Stores


What versions of QuickBooks Point of Sale does Ability Instant Scan work with?

Ability Instant Scan works with the following QuickBooks Point of Sale Versions: 

v9
v10
v2013 (v11)
v2015 (v12)
v18

What is included in my subscription?

Technical support is included with your annual subscription.  Our team will help install, review the settings and configurations, and demonstrate how the app works.

What type of scanner can I use to scan driver's licenses?

A 2D imaging scanner is needed to scan driver's licenses.  You can replace your 1D scanner with a 2D scanner.  The 2D scanner will also scan your item bar codes.