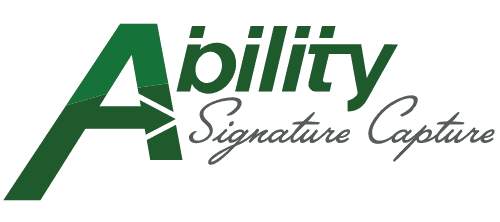 Signature Capture for QuickBooks Point of Sale
Streamline your business while reducing paperwork and administrative tasks with our Ability Signature Capture app designed for QuickBooks Point of Sale.   
Ability Signature Capture enables business owners to collect electronic signatures for retail and wholesale house accounts, credit card charges, and other payment types during checkout at the QuickBooks Point of Sale station. 
This app also serves as a customer display so that customers can review their sale as items are being scanned.  The customer can enter their phone number to attach their customer account to the sale.  Once the payment type is selected, the customer is prompted to sign.  You can retrieve the last receipt signature from the Blue Button on the left side of the sales receipt screen or from the sales history screen.  
Features
Engage customers
Display item information
Gather customer information
Collect digital signatures 
Retrieve signatures & receipt details
Market with scrolling images
Add your business logo
More
Subscribe Today
First Year/Per Station $299.00
Annual Subscription/Per Station:  $99.00
Once the app is installed, configured, and the settings are enabled, you are all set to use the iPad mini as a customer display and collect signatures. Download our guide to learn more.