Purchasing Limits for QuickBooks Point of Sale
Ability Purchasing Limits enables retailers to limit purchases on products that the state mandates with QuickBooks Point of Sale.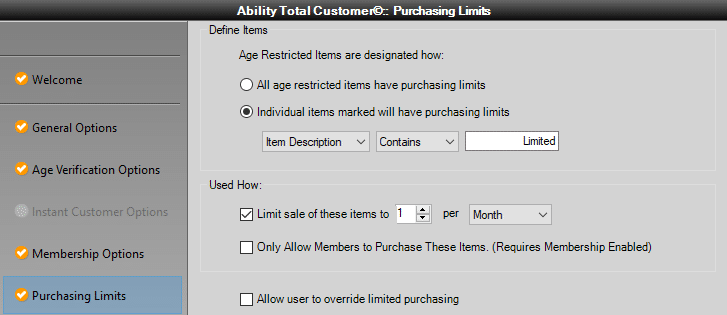 Subscribe Today
First Year/Per Station $299.00
Annual Subscription/Per Station:  $99.00
Benefits
Set purchase Limits

Protect your Business
Flexible Settings
Features
Designate Items 

Flexible Limits
Allow Override
Industries
Liquor Stores
Distilleries
Vape Shops
Medical Dispensaries
Gun Stores


What versions of QuickBooks Point of Sale does Ability Purchasing Limits work with?

Ability Scale works with the following QuickBooks Point of Sale Versions: 

v9
v10
v2013 (v11)
v2015 (v12)
v18

What is included in my subscription?

Technical support is included with your annual subscription.  Our team will help install, review the settings and configurations, and demonstrate how the app works.