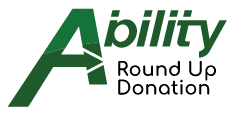 Round Up Donation for QuickBooks® Point of Sale
Ability Round Up Donation enables retailers to collaborate with charities and give back to the community.
Easily implement and automate a round up campaign effort with the Ability Round Up Donation app and QuickBooks® Point of Sale. 
Features
Automatically calculate the Round-Up value
Round-Up to the nearest $1
Easily select the Round-Up button 
Shoppers can easily donate change
Run a memorized POS report to review donation amount
Subscribe Today
First Year/Per Station $199.00
Annual Subscription/Per Station:  $99.00
Testimonial
Giving a "thumbs up" to Ability Business
Just wanted to give a "thumbs up" to the people at Ability Business for getting our QuickBooks system set up with the "round up button". It was so easy to get this done just by contacting Ability Business, Talking to Mike and inquiring on how we could get this accomplished and the cost of buying and installing this on our QuickBooks system. He immediately got back with us and told us cost and procedure. We then set up an appointment online with them and they gave instructions on how the procedure would be done. Everything about the experience went off without a hitch and was done remotely. We had no extensive downtime and was up and running.
We had to ask for support the following week because of something that we did and again made the appointment to talk with the support group. Brandon contacted us at the exact time that we had scheduled and got us back up and running. We are so grateful for such a supportive company to work with. We would give a high recommendation to anyone that has the QuickBooks system.
Once the app is installed and configured, employees will:

Simply ask the shopper if they would like to Round-Up to the next dollar for X Charity.
If the shopper says yes, the employee selects the blue Round Up Donation button on the left. 
The app will automatically calculate the difference.
A donation item will be added to the receipt. 
Which adjusts the amount due.
Complete the sale.

Example

Total Sale is $9.55 -> Roundup to $10.00 -> .45 cents is collected for donation.

Discuss what account in QuickBooks you want to tie the QuickBooks Point of Sale donation item to.