ABILITY BUSINESS'S LISA BURNETT RECEIVES INSIGHTFUL ACCOUNTANT'S 2022 TOP 100 PROADVISOR AWARD
North Canton, Ohio – May 25, 2022 – Ability Business is pleased to announce that Business Consultant and General Manager Lisa Burnett has been named a 2022 Top 100 ProAdvisor by Insig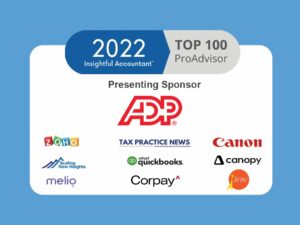 htful Accountant, an independent news and information source written specifically for the small business advisor to keep up with current technology, trends in the industry and continuing their education.
This list recognizes the leading consultants who have embraced the ProAdvisor program and have leveraged it in order to better serve their clients and grow their own business. "I want to congratulate each of the ProAdvisors who made this year's Top 100 list and thank all of the ProAdvisors who participated in the demanding process…" said Insightful Accountant Senior Technical Editor, William "Murph" Murphy.
"It's truly an honor to be nominated and a privilege to be named one of the Top 100 ProAdvisors for 2022.  My favorite part of consulting is listening to prospects and understanding what their painpoints and needs are so I can assist in developing a 'tech stack' with QuickBooks® as the foundation so that they can manage their business.  I am grateful for the opportunity to be part of a fantastic team here at Ability Business and a network of QuickBooks Solution Providers and ProAdviosrs for the last 10 years!" said Lisa, General Manager & Business Consultant.

Lisa Has been named Top 100 ProAdvisor for 3 Years – 2020, 2021, and 2022.
"This is the eighth year of our ProAdvisor awards," said Insightful Accountant Publisher and Managing Partner, Gary DeHart. "The ProAdvisors who make this list are the best in the business. Any small business would be well-served working with any one of the winners on this list. Their inclusion is a testament to the level of knowledge they possess and ongoing training they participate in." 
You can view the full 2022 Top 100 ProAdvisors list here.

About Insightful Accountant: Insightful Accountant is an independent news and information source written specifically for the small business advisor who needs to stay current on the latest news and offerings in accounting technology; including updates from Intuit, Xero, Sage and the hundreds of add-on products serving the small business ecosystem. With news and insight specifically written to help the advisor better serve their clients while building their firm, Insightful Accountant is unlike any other news source serving this space, you can subscribe here.

About Ability Business:  Ability Business is an innovative consulting and development firm as well as an award-winning QuickBooks Solution Provider.  Ability specializes in small and midsize business solutions, offering clients an end-to-end solution with QuickBooks as the foundation.  They are known for their suite of Ability POS Apps which add features and functionality like age verification, scale, signature capture, customer display, + more to QuickBooks POS. The development team contuninues to focus on Ability Financial Exchange, a near real time sync tool that connects QuickBooks Online and QuickBooks POS Desktop and offers small and midsize businesses a solution that is designed for business growth.