Update for the Tetra PIN Pad 5000
for QuickBooks Point of Sale v19
Dear Customers,
First and foremost, thank you for choosing Ability Business as your QuickBooks Solution Provider.  We understand the impact that the Tetra 5000 PIN Pad has had on you and your business. Thank you for being patient as the Intuit QuickBooks POS team worked through the intermittent freezing during transactions.  
The problem was related to the PIN Pad device itself.  The manufacturer updated the driver and you will receive (or have received) a replacement pin pad with instructions. 
You should have received communication from Intuit directly regarding the replacement and the next steps.  
This is a followup to ensure that you know the next steps to take and some guidance.  Please reach out to our team if you have any questions/concerns. 
All the best,
Lisa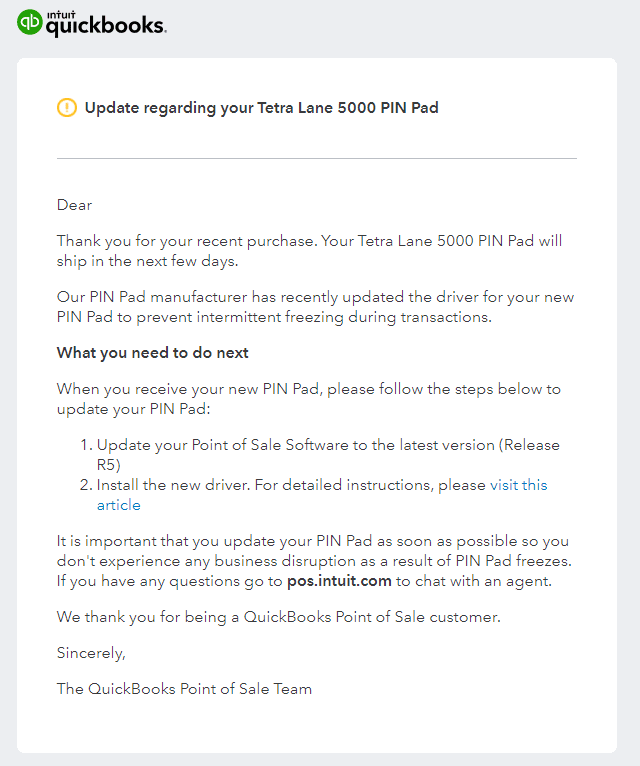 Update from The QuickBooks Point of Sale Team
Check your email for news about your replacement Tetra 5000 PIN pad and next steps.  
Next Steps
Plan the switchover
Choose a day that tends to be slower in sales.
Update your Point of Sale Software to the latest version (Release R5).
Unistall the old driver.
Install the new driver.
Connect the Tetra 5000 PIN Pad.
Test the PIN Pad.
Best Practice
Review accepting payments with employees.
Select 1 (ONE) payment type:  Credit or Debit
Select Authorize Now.
Ask customer to Insert, Swipe, or Tap using the Tetra 5000 PIN Pad.
You will see "Authorization in progress…".  
Sale is authorized.  Select the Save & Email,  Save Only, or Save & Print button.